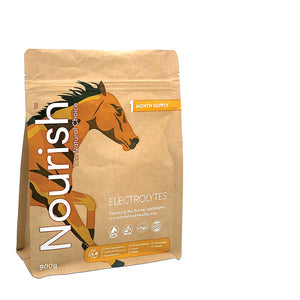 Replacing the five key electrolytes in a natural and healthy way. 
A perfectly balanced combination of Sodium, Chloride, Magnesium, Potassium and Calcium. Alongside Cranberry extracts to support the bladder during rehydration, and Coconut to naturally sweeten - no added sugars in here!

DID YOU KNOW?
Horses can lose 15 litres of sweat an hour in warm-weather and can sweat faster than any other animal and 3 times faster than us humans.  If electrolyte losses are not replaced they can lead to a variety of problems including reduced performance and associated health issues.

WHAT'S IN THE BAG?
Ground Himalayan salt: A more natural choice  known for its improved health benefits. The pink colour is a result of a higher trace mineral content.
Potassium chloride: A beautifully pure, natural and readily available source of potassium.          
Magnesium phosphate: Small quantities of magnesium are needed to replace losses which occur due to sweating.
Cranberry seed flour: Cranberries are packed full of anti-oxidants and known for their supportive effect on the urinary system (kidneys and bladder).
Coconut (Cocos nucifera): A tasty natural sweetener which contains complex carbohydrates. Coconut helps to improve palatability, without causing a sugar rush.

Composition: Ground Himalayan Salt, Potassium Chloride, Magnesium Phosphate, Limestone, Cranberry Seed Flour, Coconut.

Ingredients per daily feed (27g) for a 500kg horse: Chloride 8.3g; Sodium 4.1g; Potassium 1.7g; Phosphate 0.14g; Calcium 0.12g.

Analytical Constituents*: Crude Protein 6.2%; Crude Fibre 17.2%; Crude Ash 58%; Crude Oils and Fats 12.8%; Sodium 14.9%; Moisture 2.8%;

Feeding Guide (per day) Heaped Tablespoons   

Maintenance-Light Work
Pony

Horse

Large Horse

1½

2

3
 
Moderate-Hard Work   

Pony 

Horse

Large Horse

3

4

6
 Net Weight: 900g  - one month supply for an average 500kg horse.