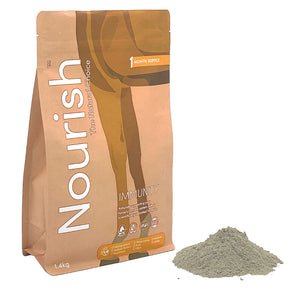 Naturally supporting your horse's immune system with a scientifically validated formula. 
There are times when our horses immune system need a some additional support. Immune maximises the effect of the powerful herb Echinacea, by combining it with potent natural anti-oxidants Vitamin C, Natural Vitamin E, Grapeseed and Rosehip. Alongside readily absorbable chelated minerals which support the immune system and aid red blood cell production.
DID YOU KNOW?
Humans can't produce their own Vitamin C, instead, we must consume it in our diet. Horses can make Vitamin C but deficiency is common especially in older horses, horses on restricted pasture or in horses that are unwell.
 
WHAT'S IN THE BAG?
Vitamin C is a vital antioxidant essential for immunity and for protection against free radicals. 5 grams has more Vitamin C than 100 oranges!
Vitamin E (tocopherol) is a powerful antioxidant which comes in natural and synthetic forms. Natural forms are absorbed better and are therefore more effective. Vitamin E is essential for immunity and horses cannot make Vitamin E themselves.

Rose Hips are included as an excellent natural source of Vitamins A, C and manganese.

Echinacea root powder (Echinacea purpurea) a powerful and proven immuno-supportive herb for the natural defences of the horse. The name Echinacea comes form the Greek word echino, meaning hedgehog, and refers to the spiny brown central cone of the flower.

Glutamine is one of 21 amino acids. It helps the gut and immune system, and is commonly used in human medicine for these purposes.
Grapeseed flour (Vitis vinifera) a powerful antioxidant which also helps circulation, collagen formation and bone strength.

Oregano is a familiar herb which has many health benefits, as well as being very palatable it supports the immune system and digestion.

Copper chelate, Zinc chelate and Manganese chelate**

**Chelated minerals are linked to amino acids and are easier for the horse to absorb. They are also kinder and less irritant to the digestive tract than inorganic or "salt" versions of the minerals.

Composition: Echinacea root powder, Vitamin C (as bioavailable ascorbyl monophosphate), Glutamine (from peptide), Rose Hips, Oregano, Grape Seed flour, Vitamin E (natural), Chelated Zinc, Chelated Manganese, Chelated Copper.  

Ingredients per daily feeding rate (44g) for a 500kg horse: Echinacea root powder 5g, Vitamin C  5g, Glutamine (from peptide) 3g, Rose Hips 2g, Oregano 1.5g, Grape Seed flour 1g, Vitamin E (natural) 1000IU, Chelated Zinc 300mg, Chelated Manganese 300mg, Chelated Copper 100mg.

Additives* (per kg of finished product): Vitamin E (natural, RRR-alpha-tocopheryl acetate) 3a700 24,906IU; Vitamin C (as calcium ascorbyl phosphate) 3a312 345g; Copper chelate 3b410 2410mg; Zinc chelate 3b609 7229mg; Manganese chelate 3b504 7229mg.   

Analytical Constituents*: Crude Protein 29.1%; Crude Fibre 20.3%; Crude Ash 24.6%; Crude Oils and Fats 2.8%; Sodium 2.6%; Moisture 4.3%;

Feeding Guide (per day) Heaped Tablespoons         
Pony

Horse

Large Horse

3

4

5
 Net Weight: 1.4g  - one month supply for an average 500kg horse.