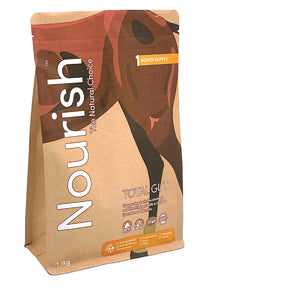 Supporting both the stomach and the hind gut with a clinically endorsed formula.
It can be confusing to decide if you need something to support the stomach or the hindgut or both. So Total Gut solves the problem by providing both. Total Gut is a completely natural, and antacid free solution to gastric and gut discomfort. Aloe Vera and Sea Buckthorn work together to soothe the stomach. Live yeast, Psyllium and Peppermint combine to cleanse the hindgut and encourage the growth of good bacteria.
 
DID YOU KNOW?

The capacity of the horses intestinal tract is approximately 200 litres whereas his stomach is closer to 12 litres. This little fact gives you a clear indicator of how important the hindgut is as well as the stomach.
 
WHAT'S IN THE BAG?

Sea Buckthorn is a plant extract known for being an extremely rich source of Omega 7 as well as natural anti-oxidants and vitamins. It has been used for generations to soothe the digestive tract, while having the added benefit of producing a healthy and shiny coat. Sea Buckthorn berries contain 10x more Vitamin C than oranges and is one of the highest plant sources of natural Vitamin E.
Aloe Vera* extract (200:1) has been proven to be efficacious when used in combination with other ingredients to help the stomach. It is also commonly used to soothe the digestive tract as a whole. The most valuable part of the aloe vera plant is the clear gel found inside the leaves, which contains more than 75 different nutrients. The extract we use is a concentrated form equivalent to 200g of the gel.
Live Yeast (Saccharomyces cerevisiae) for yeast to be effective as a probiotic they must enter the colon (hindgut) alive. For this reason we use encapsulated yeast, which is protected from the stomach acid.
MOS & Betaglucans are special pre-biotics that have the ability to bind toxins and bad bacteria within the gut, assisting the horses' natural defences, which promotes a healthier environment for the useful bacteria.
Psyllium husk has been used to help horses for hundreds of years. Both as a natural remedy and for its ability to cleanse the gut.
Apple is an excellent source of Pectin, a complex carbohydrate, commonly used as a prebiotic. This is due to its ability to improve the production of protective mucus within the digestive tract. It also tastes great.
Peppermint (Mentha × piperita) A herb that is a natural hybrid of Spearmint (Mentha spicata) which is used for its aroma and taste. Peppermint soothes the digestive tract and can reduce gassiness. Good for improving appetite and palatability.
 
Composition: Protected live yeast (Saccharomyces cerevisiae), Psyllium husk, Sea Buckthorn pommus, MOS & Betaglucans, Apple flakes, Peppermint, Aloe vera extract.  
Ingredients per daily feeding rate (36g) for a 500kg horse: Protected live yeast (Saccharomyces cerevisiae) 1 x 1011 CFU, Psyllium husk 8g, Sea Buckthorn pommus 5g, MOS & Betaglucans 5g, Apple flakes 5g, Peppermint 2g, Aloe vera extract (200:1) 1g.
Analytical Constituents*: Crude Protein 17.1%; Crude Fibre 60.8%; Crude Ash 3.2%; Crude Oils and Fats 4%; Sodium 61.8%; Moisture 7%;

Additives* (per kg of finished product): Saccharomyces cerevisiae NCYC Sc47 (4b 1702) 2.7 x 1012 CFU

Feeding Guide (per day) Heaped Tablespoons         

Pony

Horse

Large Horse                                

3

4

6
 Net Weight: 1.1kg  - one month supply for an average 500kg horse.