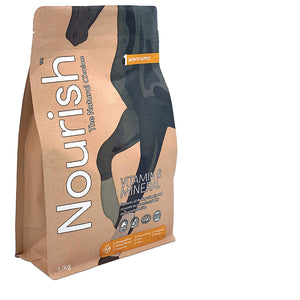 Contains all the key vitamin & minerals as recommended by equine nutritionists. 
Complete and comprehensive natural vitamin and mineral support to allow your horse to flourish day to day. Containing added natural Vitamin E and Vitamin C to support the airways and immune system as well as 20mg of Biotin per feed to encourage healthy hoof growth. This is topped off with a Gut Balancer to help improve Biotin absorption, but also help improve digestive health.

DID YOU KNOW?

There are a huge number of different soil varieties in the UK. These different varieties result in different levels of minerals in the grass which grows from them. Changes in soil pH will affect which minerals a plant can absorb. To guarantee your horse is getting everything they a daily balancer should be fed.
 
WHAT'S IN THE BAG?
A comprehensive very low calorie vitamin and mineral supplement formulated to meet published recognised standards such as the National Research Councils Nutrient Requirements of Horses in conjunction with other published scientific papers defining the needs of horses for Vitamins, minerals, trace elements and essential nutritional co-factors.
A complete range of Vitamins, including A, B1, B2, B3, B5, B6, B12, C, D(3), E and K.
Nutritional co-factors Folic acid, Choline & Biotin.
Microminerals Selenium, Iodine, Copper, Zinc and Manganese.
Macrominerals Calcium and Magnesium.
Gastro-protected live yeast Saccharomyces cerevisiae.
Composition: Saccharmyces Cerevisiae, limestone, Vitamin C (ascorbyl phosphate), spearmint, oregano, magnesium oxide, Vitamin A (Retinyl acetate), Choline Chloride, Manganese (II) oxide, Zinc oxide, Copper (II) sulphate pentahydrate, Niacin (B3), Vitamin B1, Riboflavin (B2), Calcium Pantothenate (B5), Vitamin B6, Folic Acid, Biotin, Vitamin K, Calcium iodate anhydrous, Sodium selenite, Vitamin D3 (Cholecalciferol), Vitamin E (all rac-alpha tocopherol acetate),Vitamin B12.
Ingredients per daily feed (32.5g) for a 500kg horse: Vitamin A 30,000IU; Vitamin B1 30mg; Vitamin B2 30mg; Vitamin B3 50mg; Vitamin B5 30mg; Vitamin B6 20mg; Vitamin B12 250ug; Vitamin C (as calcium ascorbyl phosphate) 500mg; Vitamin D3 3300IU; Vitamin E 800IU; Vitamin K 10mg; Folic acid 20mg; Choline 750mg; Biotin 20mg; Selenium 1.25mg; Iodine 3.5mg; Manganese 400mg; Zinc 400mg; Copper 100mg; Calcium 4.1g; Magnesium 1.5g; Saccharomyces cerevisiae 1 x 1011 CFU.
Additives (per kg of finished product): Vitamin A (3a672a)- Retinyl acetate) 923KIU; Vitamin D3 (3a671-Cholecalciferol) 102KIU; Vitamin E (all rac-alpha tocopherol acetate) (3a700) 24.6KIU; Vitamin K 308mg; Vitamin B1 923mg; Riboflavin 923mg; Vitamin B6 (3a831) 615mg; Vitamin B12 7692mg; Niacin (B3) 1538mg; Calcium Pantothenate (3a841) (B5) 923mg; Folic Acid (3a316) 615mg; Biotin (3a880) 615mg; Vitamin C (3a311) 15.4g; Choline Chloride (3a890) 23.1g; Iodine (Calcium iodate anhydrous 3b202) 108mg; Selenium (Sodium selenite 3b801) 38mg; Copper (Copper (II) sulphate pentahydrate 3b405) 3077mg; Zinc ( Zinc oxide 3b603) 12.3g; Manganese (Manganese (II) oxide 3b502) 12.3g; Saccharomyces cerevisiae NCYC Sc47 (4b 1702) 3.1 x 1012 CFU.
 
Analytical Constituents*: Crude Protein 13.4%; Crude Fibre 18.5%; Crude Ash 49.3%; Crude Oils and Fats 3.3%; Sodium 1%; Moisture 3.8%;

Feeding Guide (per day) Heaped Tablespoons               

Pony


Horse                                 


Large Horse

2

3

4
Net Weight: 1.1kg  - one month supply for an average 500kg horse.